Do you know how to ping a cell phone location? Or have you ever wondered about how to pinpoint a mobile phone device in more legal ways? If you don't, then this post is exactly what you need! There are possible simple methods for you to ping a phone and gain location information.
If you are keen on knowing how to ping a cell phone location without breaking the laws, please keep on reading and find out more helpful tips and tricks.
What is the meaning of ping a phone and is it legal to do so?
A cell phone "Ping" is the act of determining the current location of a cell phone. Or you can simply think of it as a way of finding the exact location of a mobile device, which works on GPS data or uses cell tower triangulation. It's a valuable technique that can be used in various emergencies. Furthermore, it's OK to ping a phone with legal access but the laws cited that locating a person's cell phone without consent is against the law. Thus, please make sure you have gained the prior consent of the person before you start to locate.
Right Ways to Ping a Phone to Find its Location
In this part, we will show you different ways in which you can find how to ping a cell phone and find the location. All these options are trustworthy and reliable and just choose the best suitable one to cater to your demands.
1. Search Find My and Find My Device
Find My Network and Find My Device are the most common ways to pinpoint a cell phone on iOS and Android devices, respectively.  However, if you want to take advantage of these two options, you have to turn on the Location Service of the device before you start pinging. And make sure you understand how to use this feature on your devices.
To enable the Find My Device on Android users:
Head to

official

android.com/find web and sign in to your Google Account;
Click the name at the top of the screen;
The phone you wish to ping will get a notification;
You'll receive the info about where the phone location is.
Similarly, once you have logged in to the Find My interface from iCloud, you can also use these features on your iOS devices as Android offers. Plus, even if your iPhone is running out of battery, it still can be found by using the Find My Network on your iOS devices.
2. Pinging From A Computer
In case you want to ping a phone that is misplaced somewhere unknown, you can use the WiFi connection. To do this, you need a computer connected to the same WiFi network as the phone and the IP address of the phone as well. The Android devices can find the IP address by going to Settings > About Phone > Status Information. 
How it works to find a location:
Open the Command Prompt on Windows PC;

Type in "ping [IP address of your smartphone" and click enter;

The computer will ping the smartphone through the WiFi network.
3. Call The Carrier Service
Another simple way to track a cell phone location is to turn to the phone carrier for help. It's a kind of technology named signal triangulation to help track and locate phone location. If you have lost or forgotten your phone, the cellular carrier will assist you to locate the device. However, you can't casually ping a phone without legal access, still, you need to provide documents to prove that you are the owner of that device you wish to ping. Unless you don't have another option, you can reach out to the customer service of your phone carrier to do so.
Legal Ways to Locate by Phone Number
With a reliable and secure phone number locator app, it's completely possible if you want to locate someone by just their phone number. More, you don't have to follow the phone users on the screen as the location details will display on a map of your device. If you wish to find someone's location on a map in real-time without violating the privacy laws, it has to be the MLocator to track the phone number online.
Step-by-step guides to finding a location with MLocator:
First, head to the official website https://www.mobilephonelocator.net;
Second, register your new account with your email address;
Third, enter the phone number you wish to locate in the search box;
Fourth, select the subscription plans according to your requirements;
Last, type in the phone number to receive the location result via SMS.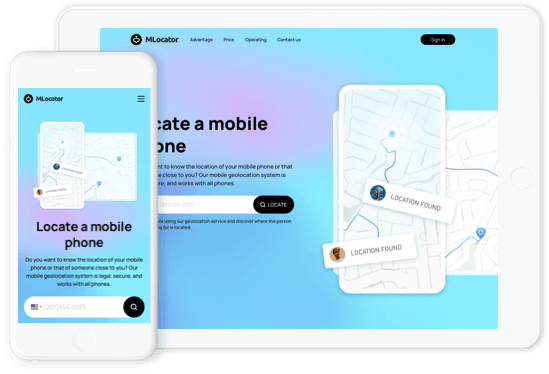 See how easy it is to track someone's location with a phone number? Then, it's your turn to have it a trial and give it a chance to prove its values!
The Bottom Line
The above are some significant things that you should know about pinging a cell phone. And we believe that you have found an effective way how to ping a cell phone and find the location. As you can see, you are free to choose one of the legal methods to pinpoint a cell phone position from what we have listed in this article and make full use of them.
If you have lost at some point on this post or have further inquiries about pinging a phone, please feel free to hit the comment below and let us know immediately!